« Back to news list
Osceola STEM Academy Information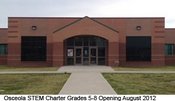 Osceola STEM Academy
The Osceola School District is proud to announce that the State Board unanimously approved our request for a STEM Charter for all students in grades 5-8.
The Science, Technology, Engineering, and Math (STEM) Charter Academy will be housed at the Academic Center of Excellence campus.
We would like to thank the community for your input and support as well as the Osceola Charter Advisory Board and all those involved in the process.
Click the links on the right for the STEM Facts and Questions and Answers.
Click here to see the video of the State Board of Education meeting.