Seminole football fans. it has been brought to my attention that on Friday Night our opponet on the field Walnut Ridge is having a PINK OUT in honor of one of their Coaches wife that has been diagnoised with Cancer. Lets show some Seminole sportsmanship by also wearing pink and show them them that we care.

Free Counseling Services for Public School Employees During Governor Hutchinson's weekly media briefing, a new program for public school employees was announced. The Employee Assistance Program is providing FREE counseling services for educators. Offered through New Directions, participants can connect with a licensed counselor 24-hours-a-day at 1-877-300-9103. The services are free, there is no deductible or copay, and services are available to ALL public school employees regardless of insurance coverage. The services are available to any household member, including college students, up to age 26. Counseling services can be conducted in person, online, telephonic, and via text.

Seminole Football fans- There will be no 7th grade game this week vs Piggott. The Jr. High game will start at 6:00pm Thursday Sept 30th. Come out and support your Jr. Noles and please share .

Mrs. Street's Biology students were learning about the required macromolecules for life processes to occur and participated in a hands-on activity where they built a model of each molecular structure using the correct chemical elements and bonds.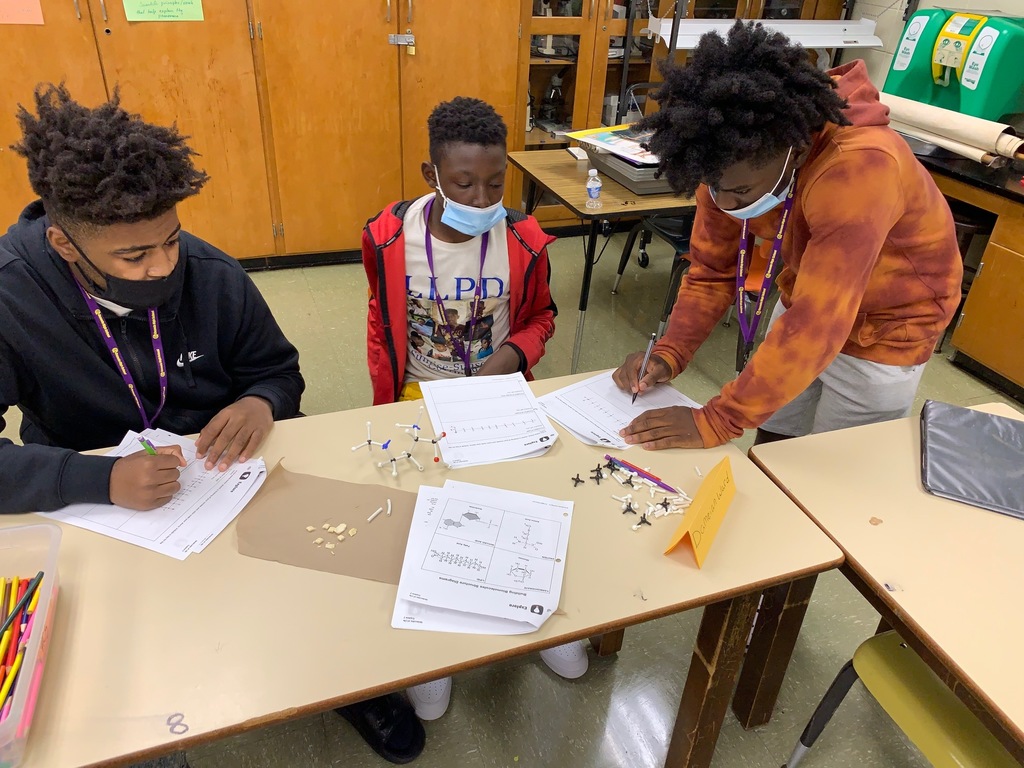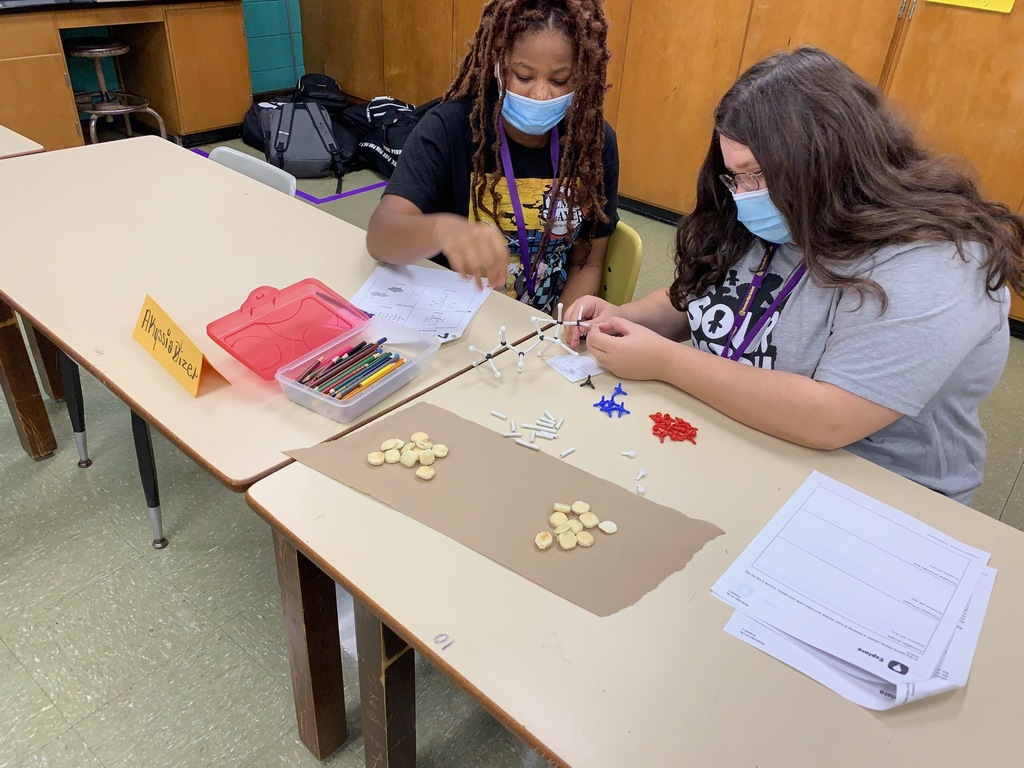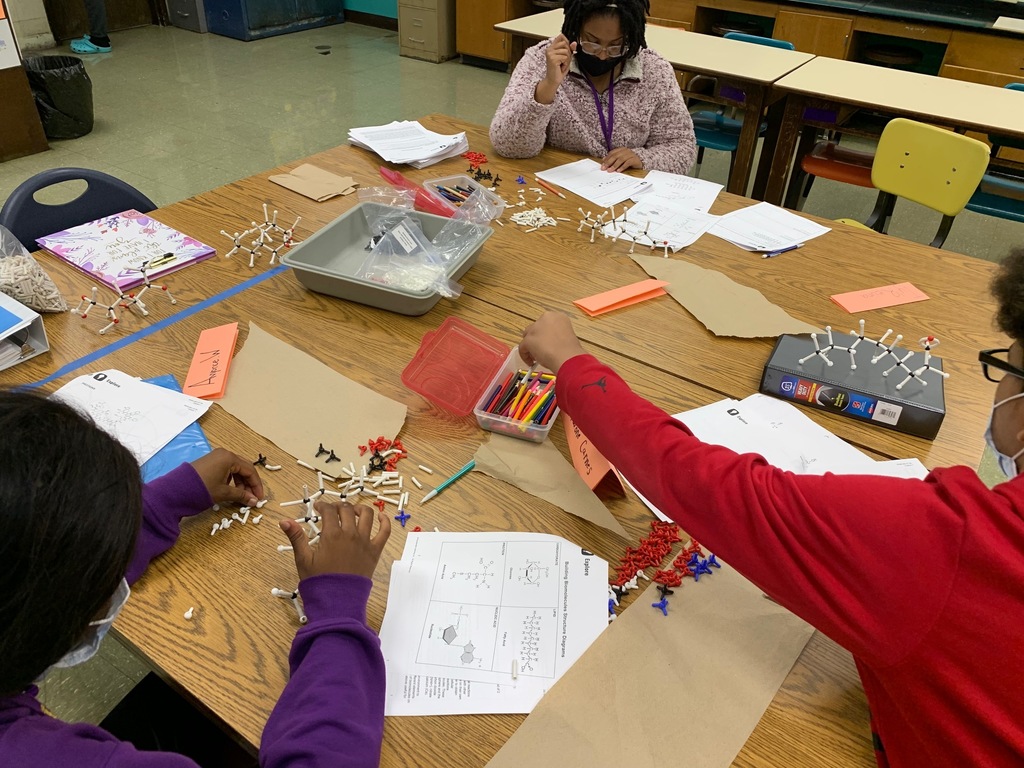 Osceola High School has exclusive Seminole gear available for order at the OHS main office and online. This design was created with all future and present alumni in mind. Please see the flyer for order details. Patrons are responsible for shipping and handling fees on online orders. Thank you for always supporting our students and for being a Seminole Partner!
https://shoppinkink.com/collections/osceola-high-school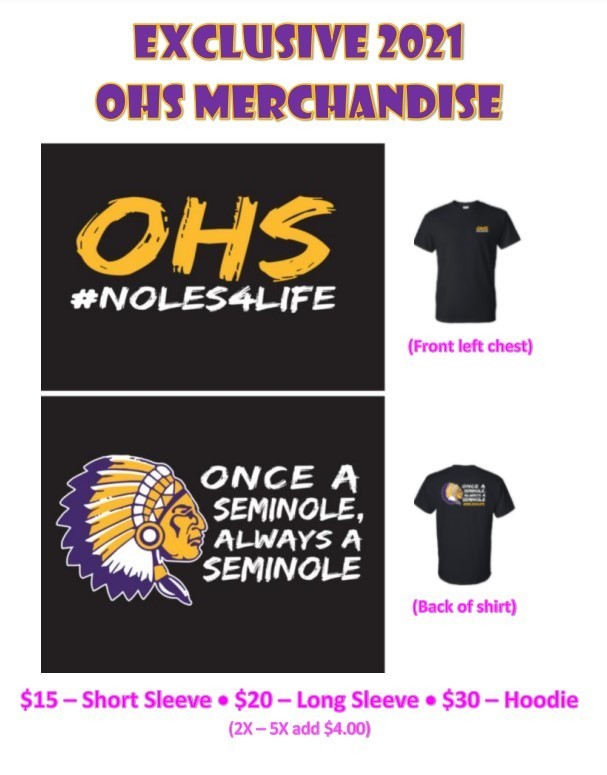 Seminole fans, we have bad news….the Osceola VS Corning Sr. High Football game scheduled for Friday September 24th has been cancelled due to Covid within the Corning Football Program!!! The Jr. High game scheduled for Thursday September 23rd is still going to be played as scheduled. Seminole fans, we will try this again next Friday night as your Seminoles travel to Piggott!!!!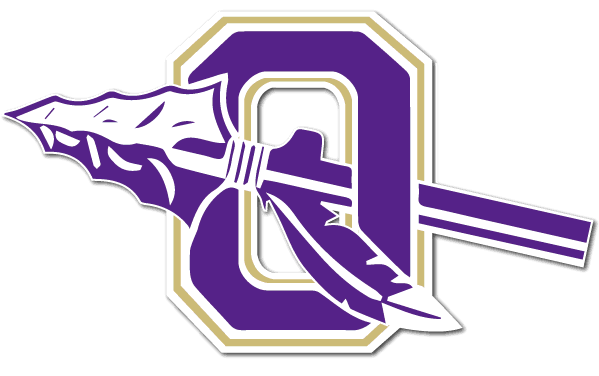 We tested our emergency notification system for parent communication Friday afternoon (Sept. 17). We will use this system to send out important updates and reminders. Please consider saving 989-00 to your contacts. If you did not receive a text message from our system, please contact the school to confirm your cell number is up-to-date.

Away Game: Tonight at 6:00pm your Jr. High Seminoles will take on the Manila Lions! 7th grade game will start at 5:00pm.

Attention Seminole Football Fans: The Homecoming game has been rescheduled from October 8, 2021 to October 15, 2021. This years Homecoming game will be your Osceola Seminoles vs Harrisburg Hornets. Game time is 7:00pm. Please share and help us get the word out. Thank you.

Parent Teacher Conferences will be held Thursday, September 16, from 3:00 - 7:00 p.m. Students will be dismissed one hour earlier than their regular dismissal time. P/T Conferences will also be held, Friday, September 17, from 8:00 - 11:00. Classes will not be in session.

Coach Clay and the Lady Seminoles basketball team welcoming our baby Seminoles at North Elementary this morning. Being Role Models, Being Leaders, Masked up!!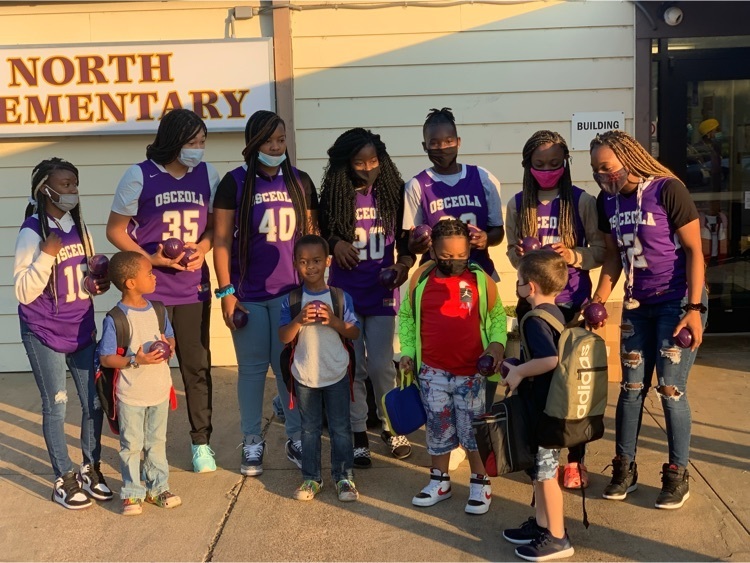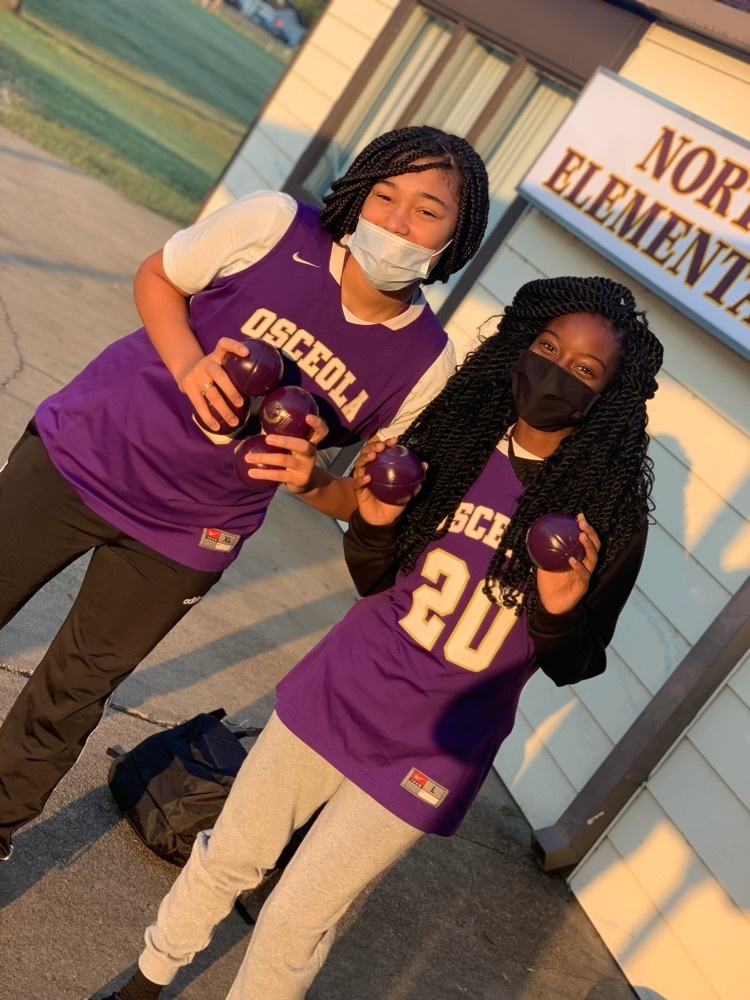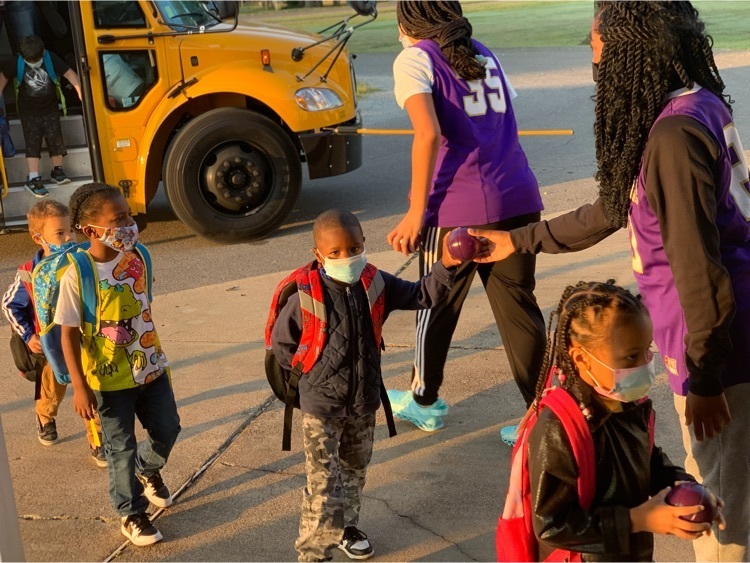 Dear Seminole Family, Thank you for your persistent support with the Osceola School District. Thank you for partnering with OSD on the implementation of wearing masks on school premises to possibly prevent and slow the spread of the COVID viruses. Thanks are also in order to you for making Osceola School District your school of choice. As you know, we are still in the midst of a pandemic. Cases are steadily rising among our school age students nationwide. I want to assure you that the OSD is working tirelessly to ensure that our scholars are receiving the very best service day in and day out to keep everyone safe. We would also like to commend you on your efforts in keeping students home when there has been a positive case of COVID. In our efforts to maintain a strong partnership, we are asking you to help us manage accurate attendance data for our students by contacting schools when there is a positive case. By doing this, we become aware of why your scholar is absent to ensure that days are labeled and/or coded correctly within the Department of Elementary and Secondary Education's (DESE) database, as well as provide additional support to eliminate learning loss. To continue to prevent and slow the spread of the COVID viruses within our staff and student body, we are requesting that all parents and/or guardians of on-site learners and all OSD employees notify the district's designated Point of Contact (POC) immediately regarding the following: -any positive COVID-19 test ,or -exposure to someone who has tested positive In closing, we shall get through this together. We encourage all stakeholders to mask up and continue to be an advocate for what is best for our students and the community we serve. We are a force when we work together. Sincerely, Dr. Toriano Green Superintendent

Due to Covid issues the football games scheduled vs Gosnell this week, September 9 & 10, Jr & Sr High, have been cancelled. Anyone who has already purchased tickets through GoFan will receive a refund through GoFan.

Coach Landry's PLTW/EAST classes have the capability to design, print, and troubleshoot in Live View remotely from any computer, using Dremel cloud software. This enables the students to create 3D models without having to be in the classroom. This software ensures that the students can be creative and engaged through our technology. The finished 3D printed pencil holder, designed remotely and started printing remotely. Great job to Coach Landry's PLTW/EAST classes, keep up the great work!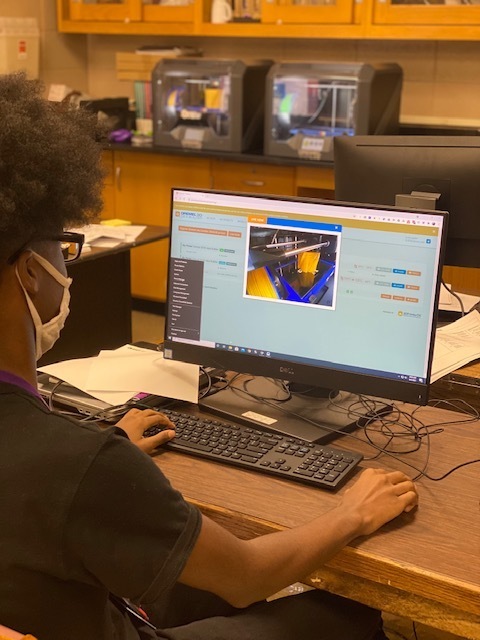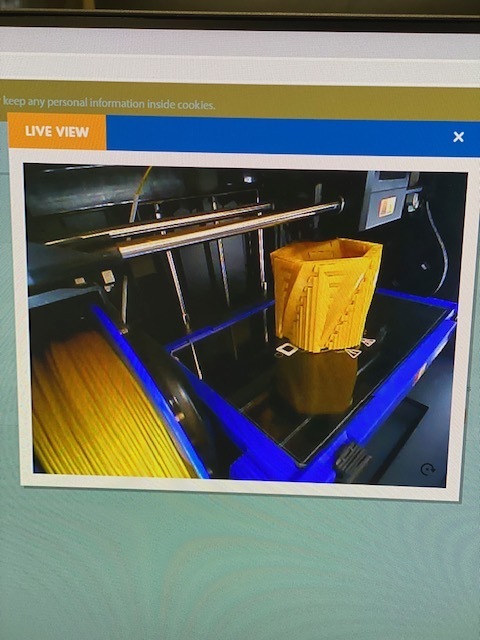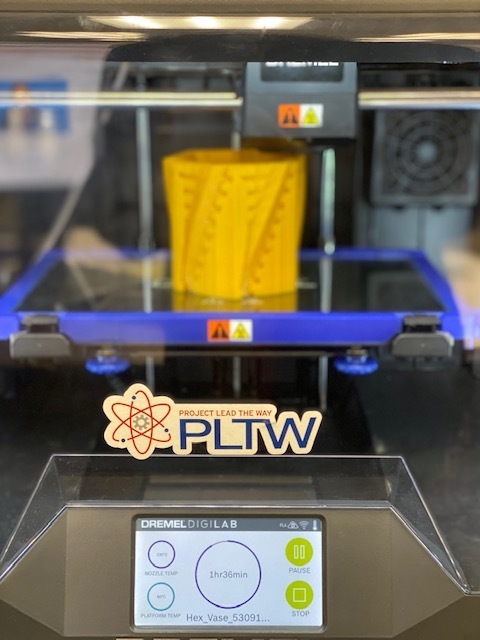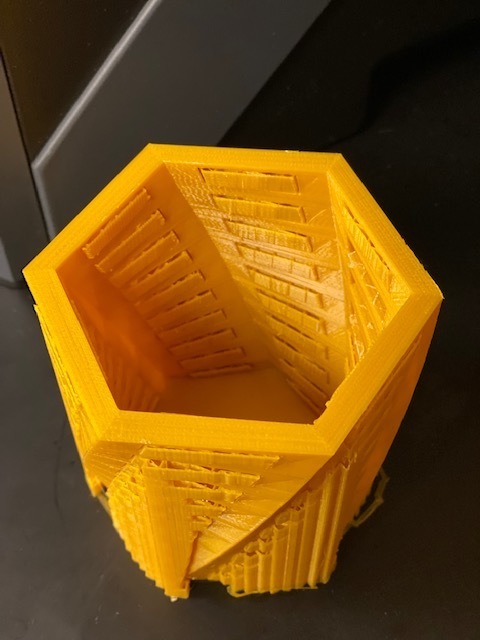 Come out and support your Seminoles and get vaccinated.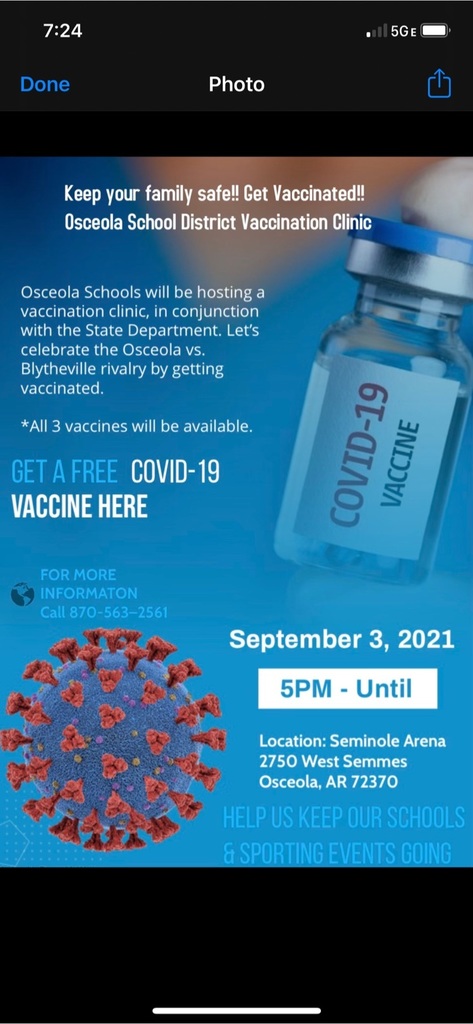 Come out and support your Seminoles and get vaccinated.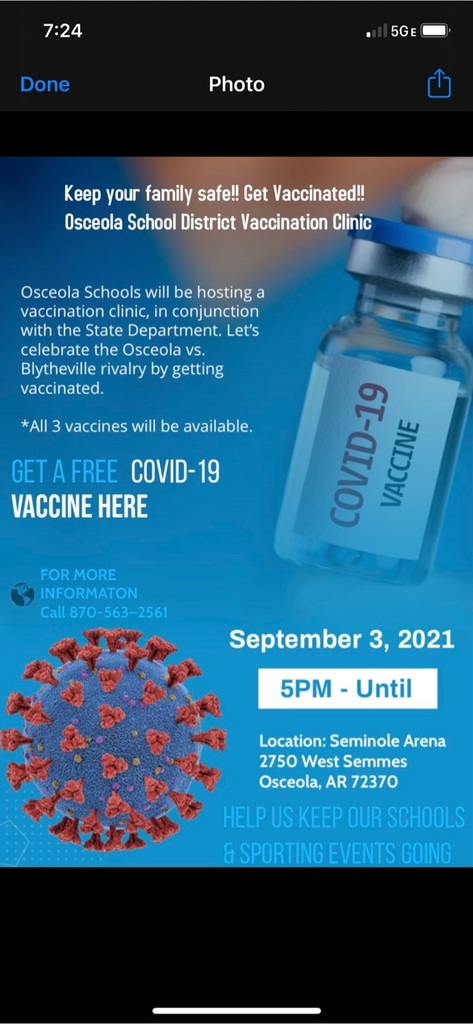 Osceola School District is thankful to have CCY as a Seminole partner. Each year they donate school supplies including: backpacks, paper, and pencils to all schools in OSD. We are grateful to have such caring people as partners!

We would like to encourage everyone 12 and older to participate in our vaccination clinic this Friday, September 3, 2021. Come get vaccinated before the rivalry game of the Blytheville Chickasaws v Osceola Seminoles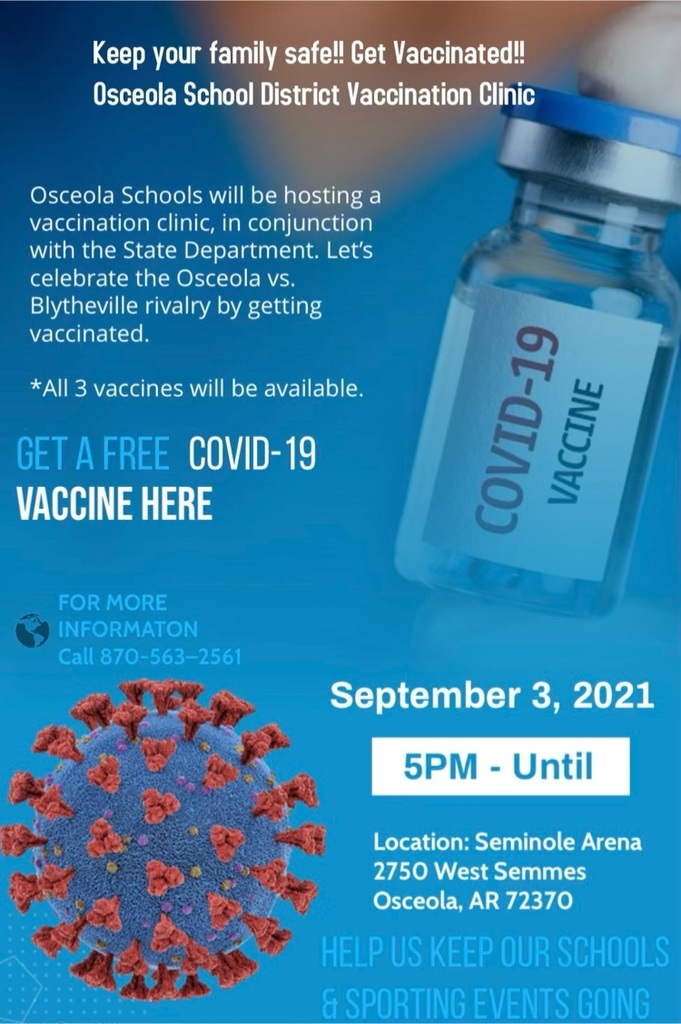 The Jr. High football game vs Blytheville for this Thursday Sept 2nd has been cancelled due to Covid concerns in Blytheville. Anyone who already purchased tickets through GoFan.co will be receiving a full refund through GoFan.co. As of right now the Sr. High Game vs Blytheville, Friday Sept 3rd is still on.

Come out and enjoy a great night of football. Help us keep our schools in session and help us keep our student athletes on the field. Do your part and get vaccinated.