ALL Osceola athletic event tickets for the 2021 - 2022 school year will be sold ONLY online through Gofan for all home games. Tickets can be purchased beginning on the Sunday prior to the upcoming Jr & Sr High games. Click on the link below to purchase your tickets.
https://gofan.co/app/school/AR19335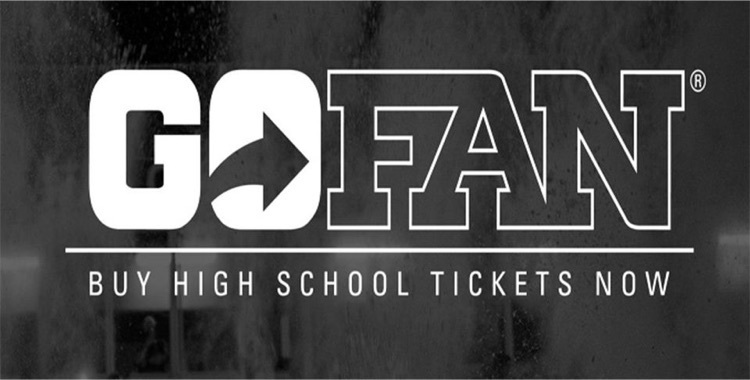 2nd Annual "Decals with Dad" and "Locker Room Makeover With Mom" will be held on Aug 26, 2021 @ 5:30p. Last years event was a success, so let's make this event even better!!! All mentors, Mother/Father figures are welcome. Aug 26, 2021 @ 5:30p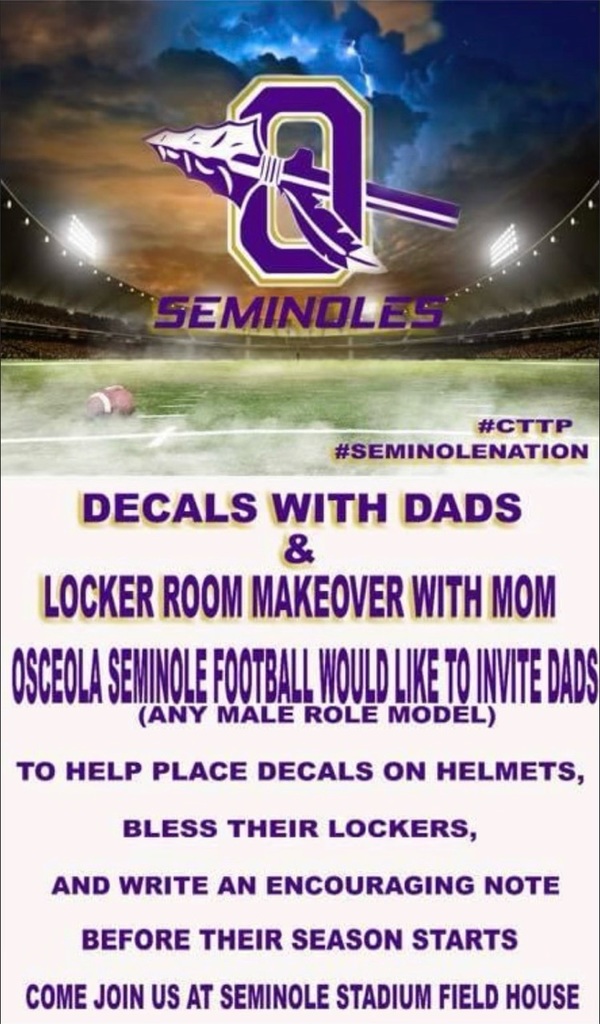 Congratulations to our outstanding JROTC program led by Sgt. Bryant. Our cadets have been awarded the Resiliency award for their efforts during the shut down. Please see the letter below from the Regional Director complimenting their efforts. Brigadier General Leslie A. Maher Commander, Jeanne M. Holm Center for Officer Accessions and Citizen Development 60 West Maxwell Blvd Maxwell AFB AL 36112 Dear Principal I want to thank your Air Force Junior Reserve Officer Training Corps (AFJROTC) instructors for their diligence and initiative these past 16-months as our nation struggled with a worldwide pandemic. These motivated veterans overcame so many unexpected professional and personal challenges, exceeding all expectations in providing your school a quality AFJROTC program and fortifying the resilience of your cadets. In light of this, I am awarding your unit and cadets the AFJROTC Resiliency – COVID-19 Award. All enrolled cadets assigned to your unit from 1 March 2020 until 30 June 2021 are authorized to wear this award. Congratulations to you, your instructor team, and the cadet corps! I am extremely proud of your instructors and what they have accomplished during these uncertain and challenging times. Your instructors are exceptional role models and have always found a way to persevere and provide a high quality AFJROTC program, even in the face of uncertainty and adversity. This award is in recognition of your unit and your instructors rising to meet this challenge head-on! Thank you for your continued support in working towards our common goal to develop citizens of character for America. If you or your instructors have any questions regarding this award, please ask your instructors to contact their AFJROTC Regional Director. Sincerely LESLIE A. MAHER Brigadier General, USAF Commander cc: AFJROTC Instructors

On Monday the Osceola School Board held their regularly scheduled meeting and Superintendent Dr. Green proposed that we implement a mask mandate that aligns with the CDC's guidelines for safely reopening schools and they voted in favor of the resolution 6-0. Act 1002 that banned local mask mandates, was struck down by Judge Fox. As of right now, his order is still law of the land for all of Arkansas—Act 1002 is not currently enforceable. Currently, a District can implement a mask mandate in just about any form that is reasonable and non-discriminatory (entire district, just k-6, just buses, etc.). With that said the Osceola School District will now require all students, staff, and visitors that enter into a school building within the Osceola School District to wear a mask. Students will also be required to wear masks on the bus. Thank you for your understanding and for your patience. Please understand that this is fluid situation and the Judge Fox's decision could be overturned at any moment.

Hello Parents: As we prepare for the upcoming school year, we wanted to keep you informed about what is happening in OSD. This year the Osceola School District will only offer school on site. That means every student that is registered to attend school in the Osceola School District will be expected to come to school. Our custodial staff members are working extremely hard to ensure that your students enter a building that is sanitized and well maintained. Thank you for your commitment to the Osceola School District and thank you for allowing us to be a part of your child's educational journey.

Welcome to our new website. Please take the time to browse around and get familiar with our new site.